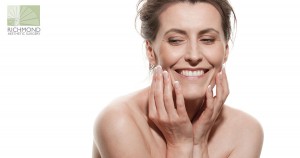 As the natural aging process takes its course, most of us lose the facial fat that creates soft, full cheeks. When this cheek volume is lost, the cheeks often take on a hollow, sunken appearance in addition to the development of creases around the mouth and the formation of sagging jowls. Facial fat grafting can be useful for younger patients seeking rejuvenation without more invasive surgery, and the procedure can be combined with "mini" or skin-only blepharoplasties for very effective results.
Though fat grafting has been around for decades, recent advancements in technique and technology have refined the procedure for longer-lasting results that look incredibly natural. By redistributing your body's own storage of fat, your face can achieve more youthful proportions. In addition, this transferred fat often continues to generate new cells, prolonging the cosmetic benefits of this facial procedure.
To learn more about facial fat grafting, or to schedule your consultation with our board-certified plastic surgeon, please contact Richmond Aesthetic Surgery today.