Candidacy and Your Consultation
Dr. Neil J. Zemmel utilizes your consultation and pre-operative visits as a time to discuss your individual cosmetic concerns and aesthetic goals. Our plastic surgeon at Richmond Aesthetic Surgery believes that in order to achieve results that look beautiful as well as natural, each person's unique facial features need to be considered when determining which procedure can best meet that individual's needs and desires. When you visit our office for the first time, Dr. Zemmel will spend time not only gathering information about your medical history, but also learning about your aspirations and expectations for your facial rejuvenation.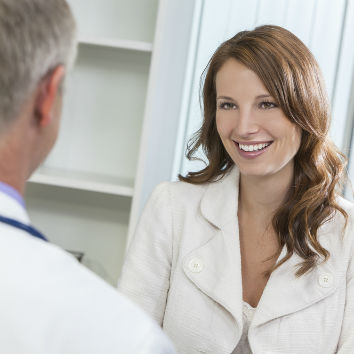 Not every patient who visits our practice actually requires surgery to achieve the results they are seeking. Depending on your circumstances, many of our non-surgical procedures offer significant results with less downtime and at a lower financial cost. Treatments such as BOTOX Cosmetic®, dermal fillers, laser skin resurfacing, and even topical skin care products can go a long way toward keeping many common signs of the natural aging process at bay. These treatments are also sometimes recommended by our plastic surgeons to maintain your youthful look during your 20s, 30s, and into your 40s.
However, non-surgical procedures are not considered to be replacements for surgical means of facial rejuvenation. Age, genetics, weight fluctuations, and even smoking can impact the skin, fat, collagen, and muscles of the face to the point where surgery may be needed to achieve a patient's aesthetic goals. Typically, when a person enters their 50's, surgical procedures such as a facelift or eyelid surgery (blepharoplasty) are required to significantly tone and tighten the skin for a more youthful appearance. However, since no two patients are the same, there is no golden rule for the ideal approach to facial rejuvenation.
Candidacy
After discussing your personal aesthetic goals, Dr. Zemmel will create a custom-tailored treatment approach. Based on your unique bone structure, tissue thickness, skin elasticity and texture, as well as the extent of visible aging, our plastic surgeon make recommendations on which non-surgical and surgical procedures may best meet your expectations. While non-surgical procedures have the advantage of very little downtime and a lower financial cost, surgical procedures can deliver more dramatic and comprehensive facial rejuvenation. Typically, patients who maintain overall good health practices and have a low risk of complications are good candidates for most non-surgical and surgical procedures. While surgical procedures, including eyelid surgery and facial fat grafting, require more of a commitment on behalf of the patient, the results usually exceed the capabilities of non-surgical procedures. Dr. Zemmel also recommends that you maintain a nutritious diet, regular exercise routine, and good skin care practices after any facial procedure to optimize results and keep your skin looking healthy, youthful, and revitalized.
If you would like to learn more about our non-surgical and surgical facial procedures, or to schedule a consultation, please contact us today.
Turn back the hands of time and renew your youthful appearance.