Brow Lift
The effects of long-term sun exposure, gravity, and age-related skin changes can contribute to aging of the brow and forehead. Aging of the brow and forehead is typically characterized by increased horizontal and vertical lines and drooping of the brow below the bony rims of the orbits. Rejuvenation of the forehead and brow can be achieved through a brow lift.
What Is a Brow Lift?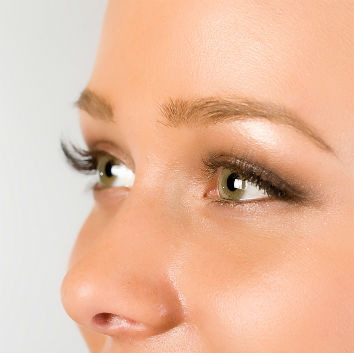 Brow lift surgery is a facial procedure that tightens the skin along the forehead to reverse the common signs of brow aging, and that lifts the muscles beneath the skin for more permanent results than nonsurgical or injectable alternatives. A brow lift may be the ideal solution for patients seeking smoother skin and removal of frown lines. Dr. Zemmel has a great deal of experience with brow lift surgery and often perform this procedure in conjunction with eyelid surgery (blepharoplasty) to revitalize the entire upper portion of the face. With a history of experience and excellence in facial plastic surgery, our surgeon continually strives to help you put your best face forward. To learn more about brow lift procedures, or to schedule a consultation, please contact our office today.
What Does the Brow Lift Consultation Entail?
Ideal brow lift candidates include healthy men and women concerned with sagging skin and muscle above the brow line. At Richmond Aesthetic Surgery we understand that the decision to undergo brow lift surgery is not one to make lightly, and the consultation process takes into account each patient's individual goals to foster the trust and communication necessary for outstanding results. A successful brow lift procedure necessitates that the patient maintains realistic expectations and relies on clear doctor-patient communication facilitated by Dr. Zemmel.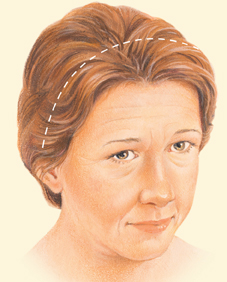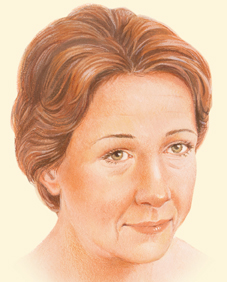 After the consultation, if you are determined to be a good candidate for a brow lift, our facelift surgeon will provide detailed pre-operative instructions in preparation for your individual procedure.
What Are the Types of Brow Lift Procedures?
The brow lift is an outpatient facial surgery procedure that can correct age-related changes of the brow and forehead. There are three different types of brow lifting procedures that are used to achieve rejuvenation. The type that is appropriate for an individual patient is determined by the unique goals of the patient and a careful analysis of brow and forehead anatomy. The three types of brow lift procedures performed at Richmond Aesthetic Surgery include: the conventional brow lift, the lateral brow lift, and the endoscopic brow lift.
Depending on the procedure, a Board Certified Anesthesiologist and Nurse Anesthetist will administer deep sedation or general anesthesia. The incisions made during surgery are hidden along the hairline. A brow lift is typically performed as an outpatient procedure and takes 1 hour to complete.
The Conventional Brow Lift
The conventional brow lift is primarily used to address soft tissue laxity by removing excess skin. Using an incision that is kept within the hairline, the skin and muscle of the entire forehead is elevated. The underlying muscle is re-suspended to a more youthful position and excess skin is removed. This procedure is useful in patients with significant laxity and drooping of the brow and forehead, and it provides long-lasting changes. Through the use of a conventional brow lift, Dr. Zemmel can create a younger-looking brow that looks natural.
The Lateral Brow Lift
As we age, our brow begins to stretch and sag, especially along the tail of the brow. Often, sagging along the tail of the brow is the earliest sign of forehead aging and contributes to hooding of the upper eyelids. The net effect is a tired and aged appearance. The lateral brow lift restores the natural peak of the brow to its original anatomic position. The lateral brow lift involves limited incisions in the hair of the lateral brow, and it is frequently combined with upper eyelid surgery (blepharoplasty). Because this brow lift technique requires comparatively minor incisions, patients typically have an abbreviated recovery period.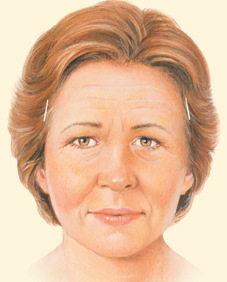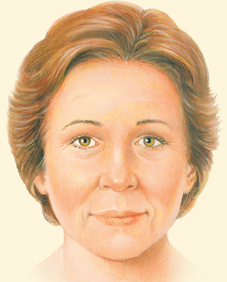 The Endoscopic Brow Lift
An endoscopic brow lift is an even less invasive procedure than the lateral lift. The endoscopic brow lift frees the muscles and tissues from the bone of the brow to target the specific areas of skin and muscle that cause wrinkles and sagging. This lifting technique is useful in patients with more significant muscle laxity but with mild skin wrinkling. The procedure involves small incisions within the hairline. With the assistance of a fiber optic camera, some of the small muscles that contribute to frown lines are removed, and the eyebrows are then elevated for an even more youthful appearance. The endoscopic brow lift can also be combined with other facial surgical procedures.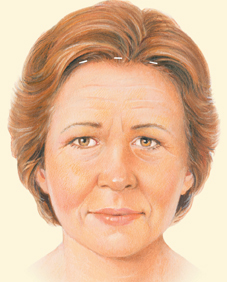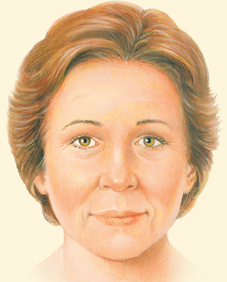 What Can I Expect in the Brow Lift Recovery?
Some swelling and bruising is normal after brow lift surgery, and usually resolves in 1-2 weeks. By keeping the head elevated during the initial days after surgery, swelling can be reduced. Post-operative pain is easily controlled using oral medications. About 2 weeks after the procedure, patients return to our office for a follow-up appointment to ensure the body is healing optimally. Some patients experience numbness following brow lift surgery that can last up to 6 months. Dr. Zemmel recommends that patients avoid strenuous activity for 7-10 days after surgery. After any swelling and bruising recedes, you will begin to see the final results of your brow lift and your new rejuvenated appearance.
Will I Have Noticeable Brow Lift Scars?
The location and size of the scars from brow lift surgery will depend upon the technique performed. Dr. Zemmel makes every effort to ensure the incisions made during a brow lift are in areas that can be easily concealed, such as behind the hairline. In addition, patients will be instructed on how to care for their incisions after surgery to promote healing and minimal scarring. Although scars cannot be completed avoided, Dr. Zemmel will help you achieve the rejuvenating results you desire while minimizing any signs that you have had a cosmetic surgery. More personalized details about your post-operative brow lift scarring will be discussed with you during your consultation.
How Long Do Brow Lift Results Last?
A brow lift can reverse years of aging from the upper face, and these results are considered permanent. However, while the procedure can provide a beautiful rejuvenation, the face will continue to age. With this in mind, patients who have undergone brow lift surgery will continually look younger than they would have, had they never chosen to get the procedure. As a result, patients can enjoy their younger-looking facial appearance for many years. On average, results from a brow lift can often be seen for at least 5-10 years, if not longer. Many patients choose to undergo non-surgical rejuvenation treatments like BOTOX® Cosmetic and laser skin resurfacing to help maintain their youthful look.
How Much Does a Brow Lift Cost?
The average cost for brow lift surgery at Richmond Aesthetic Surgery is $10,000, but this cost can widely vary from patient to patient. The technique used for brow lift surgerywill factor into the total amount you can expect to pay for your brow lift procedure. When you come in for your consultation with Dr. Zemmel, he will create a custom treatment plan based on your needs and goals. Once this has been established, our staff can provide you with a cost quote for your brow lift, explaining the fees that go into your total amount. If you are interested, we offer facial surgery financing options that can help make your procedure fit more comfortably within your budget.
Turn back the hands of time and renew your youthful appearance.