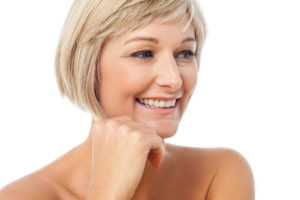 As we age, the shape of our face generally changes. The skin begins to lose elasticity and facial fat begins to diminish, which can cause the cheeks to lose their fullness, the skin to wrinkle and crease, and hollows to develop beneath the eyes. A facelift is designed to replenish this lost volume while simultaneously smoothing the skin for a more youthful appearance. While facelift surgery can effectively reverse the effects of facial aging, our patients often choose to combine a facelift with fat grafting to maximize their results.
Dr. Neil J. Zemmel recommends a facelift with fat grafting for patients who want to replenish lost facial volume and attain the "apple" shape of the cheek often associated with youth. The procedure can also enhance lip volume for a fuller, more plump aesthetic. Also referred to as a fat transfer or fat injections, this technique can redistribute your body's own fatty tissue to improve the proportions of the face. An added benefit of the procedure is the removal of excess fatty tissue from another area of the body using liposuction.
To learn how you can achieve beautiful, long-lasting results with a facelift and fat grafting, please contact Richmond Aesthetic Surgery to schedule a consultation.