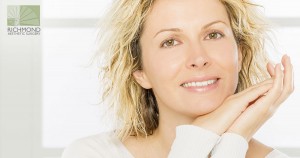 In the past, our patients at Richmond Aesthetic Surgery have typically waited until around the age of 50 before seeking out the benefits of a facelift. A traditional facelift can address wrinkles, fine lines, and folds around the cheeks, mouth, and chin; reduce the prominence of jowls; restore lost fullness to the cheeks and tear troughs; and eliminate excess, sagging skin.
Now, with the invention of the mini facelift, our patients are seeking facial rejuvenation earlier for subtler, natural-looking results. As a facelift alternative, this procedure is less invasive, entails a shorter recovery time, and is designed to reduce sagging jowls and marionette lines. While the mini facelift uses similar surgical techniques, the incisions are typically smaller and more limited (known as the MACS-lift facelift technique), allowing any scarring to be carefully hidden behind the ears. Dr. Neil J. Zemmel can give you their recommendation about which facial procedure can best meet your needs after your initial consultation.
For more information about facelift and mini facelift surgery, please contact us today to schedule a consultation with Dr. Zemmel.